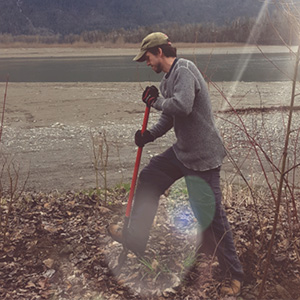 Scott Hawker
Senior Biologist
Certifications and Experience include:
First Aid Level 1: CPR C/AED
ATV Training; Canadian Safety Council
Electrofishing – Supervisor certification
Provincial Certification: Describing Terrestrial Ecosystems in the Field
Provincial Certification: Wildlife Habitat Ratings
Workshop: BC First Nations Environmental Assessment Toolkit Workshop (2015)
Workshop for First Nations to discuss key issues around natural gas pipeline projects proposed for northern British Columbia
A Professional Biologist in BC since 2004, Scott brings 20 years of consulting experience, successfully delivering ecological inventory and assessment projects to a broad range of clients including land developers, provincial and federal government agencies and many others in the forestry, renewable energy, oil and gas, and mineral exploration / development sectors. Scott grew up in Coquitlam and has long hiked, biked and explored the Coast Mountains of southwest BC. As a lead biologist for a previous large scale ecosystem mapping project on the south coast, Scott has had the privilege of exploring and mapping the forests and waterways throughout much of the southern coast region.
His passion lies in conducting ecosystem and vegetation inventories, driven by a desire to research, understand and map the complexity of interrelated factors that drive the development of ecosystems. This ecological information provides invaluable data that is required in most land and resource management projects, including Environmental assessments (baseline data), Development permitting and applications, Environmental management / monitoring plans, Biodiversity assessments, Species and ecosystems at risk, Wildlife habitat mapping and management, Cumulative impact analysis and Climate change adaptation.
Scott has experience with technical Working Group representation for large developments involving the BC Environmental Assessment Office, provincial ministries and federal regulatory staff, industry proponents and their consultants. Through this process, he provides regular project summaries to First Nations Chief, Council and Communities through meetings, on-site visits, workshops and presentations.
With significant experience and cultural awareness obtained through many years of project-level collaboration with First Nations throughout BC, Scott collaborates closely with Carrielynn and Ayelstexw staff to share experiences and combine the scientific methods with the vast ancestral knowledge of the St:lo people, who were born and raised in S'olh Temexw since time immemorial. It is this shared understanding of the lands and resources that will ensure the responsible management and stewardship of environmental and cultural values.