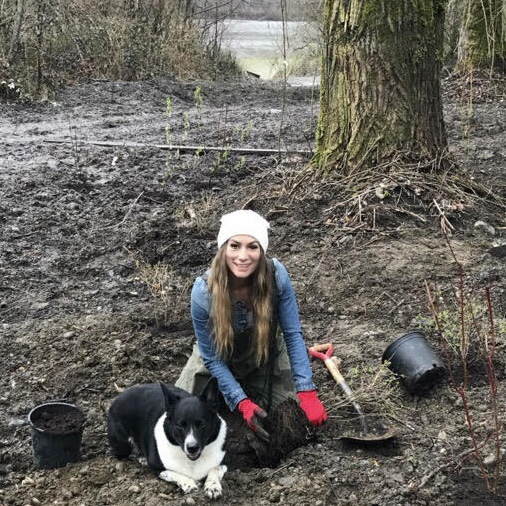 Sam Douglas
Project Manager
Certifications and Experience include:
Project Management (1- year)
Massage Therapist (3+ years)
Canadian Airforce Member (5 years)
Power Engineering (8 years)
Aircraft Maintenance Engineering (9 years)
Transitioning from the oilfield industry back to her roots, Sam is dedicating this stage of her career to giving back to her First Nation community and Sto:lo Nation as project manager and consultant for Ayelstexw's new and ongoing projects, and on her personal paths. Sam is currently working on habitat restoration and is looking forward to upcoming projects in habitat & trail system restoration, agriculture through permaculture, and developing community programs including rehabilitation success programs and work term development for aged-out foster children, rehabilitating persons and newly released inmates.
Born in Abbotsford, British Columbia, Sam's lineage spans the globe. Her mother Genevieve comes from Cheam First Nation, one of 20 siblings of First Nation, Chinese and Irish descent – the most Canadian of heritages. Her father Gene, born in Quebec, comes from Dutch-Indonesian and French parents.
Sam's return from the oil industry and transition into the environmental field was unexpected but very much desired as a career path. She is focusing on her aboriginal roots, and on the traditional ways that her family, community and nation have passed down for centuries. These teachings include the understanding that Food and Medicine are one.
The opportunity for Sam to use her knowledge and experience from the oil and gas industry, mechanical, planning and technical backgrounds will aid in developing alternative sources of energy and power generation/harnessing for future farming projects, while her natural green thumb in propagation and production will pave a success path within upcoming agriculture/permatculture projects. She looks forward to following her passions in food, health, habitat restorations, and combining these to better her community's quality of life.
Her goal in working so close to home is reflected in our company name Ayelstexw which means "leave it in good health or leave it as you found it." Sam has returned home in a time in which she sees progress, her people moving forward, and transitioning into a new-age tradition of our own era. She wants nothing more than to be a part of this development and evolution while retaining, restoring, rejuvenating and implementing old and new teachings, lands, water and air for the children to come.